NuPhy Halo 96 Keyboard Review: Is it any good?
NuPhy is a relatively new player in the mechanical keyboard market, but they have quickly made a name for themselves with their high-quality products. In this review, we will be taking a look at their flagship offering, the NuPhy Halo 96 keyboard, after using it everyday for 2 months.
What's in the box?
Color-matching USB cable
2.4Ghz wireless receiver
Switch extraction tool
18 extra keycaps
Set of 7 test switches
Wrist Rest (Additional $29)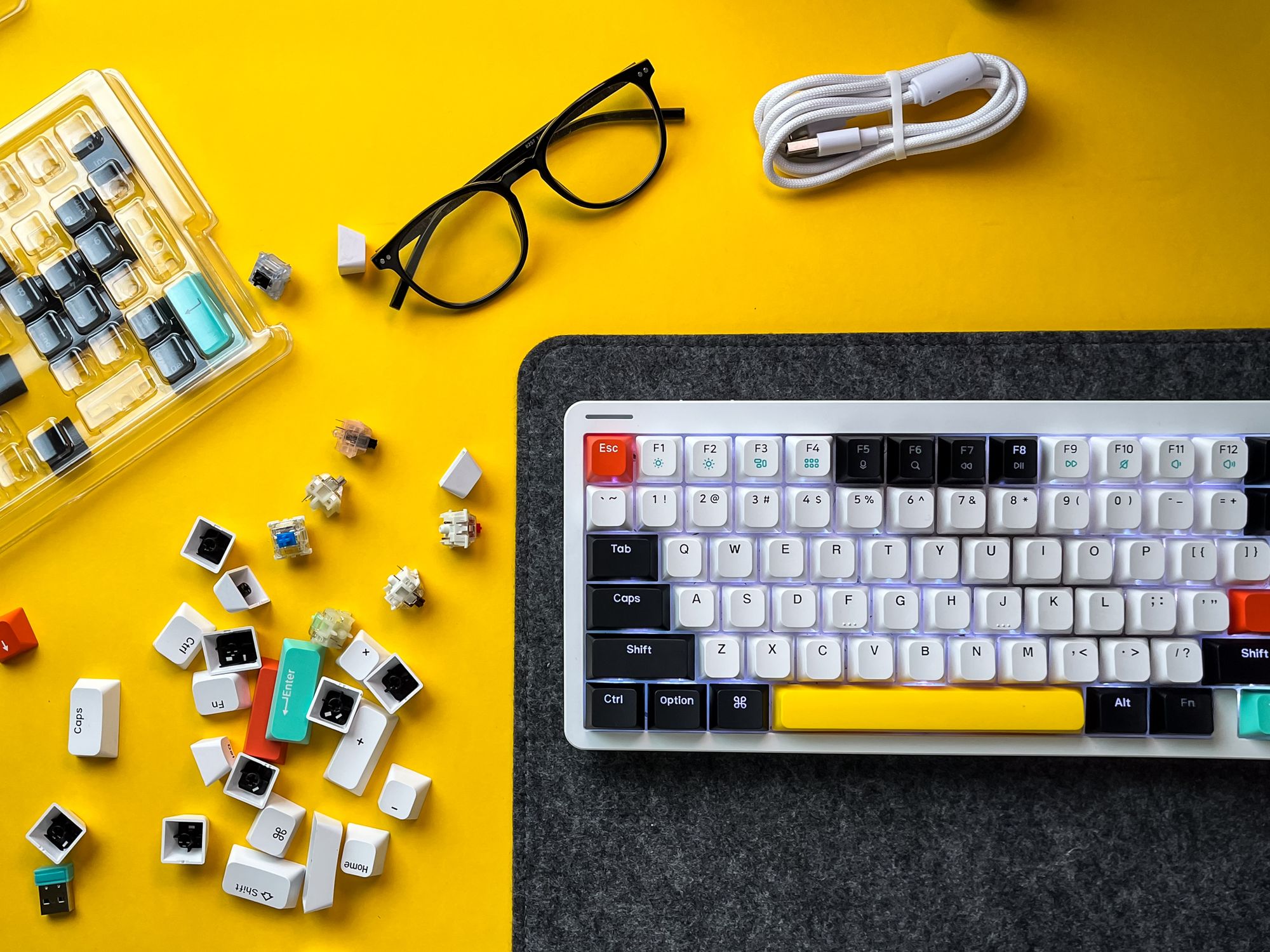 Video Review
Build Quality and Aesthetics
The first thing you'll notice when holding the keyboard outside the box is its weight. Weighing in at approximately 1500 grams, the NuPhy Halo 96 is not ideal for portable use and is instead designed to be used exclusively on a desk. The keyboard's body is made of plastic, frosted acrylic, and aluminum, which makes it heavy but also gives it a durable and high-quality feel.
The Halo 96 also features a well-thought-out design with minimal branding and unique features like the light strip at the top and fun accent-colored keycaps. The white option adds a clean and classy aesthetic to the desk, but it requires more work than the black one. The keyboard's protective packaging can also serve as a dust cover when you're away for an extended period.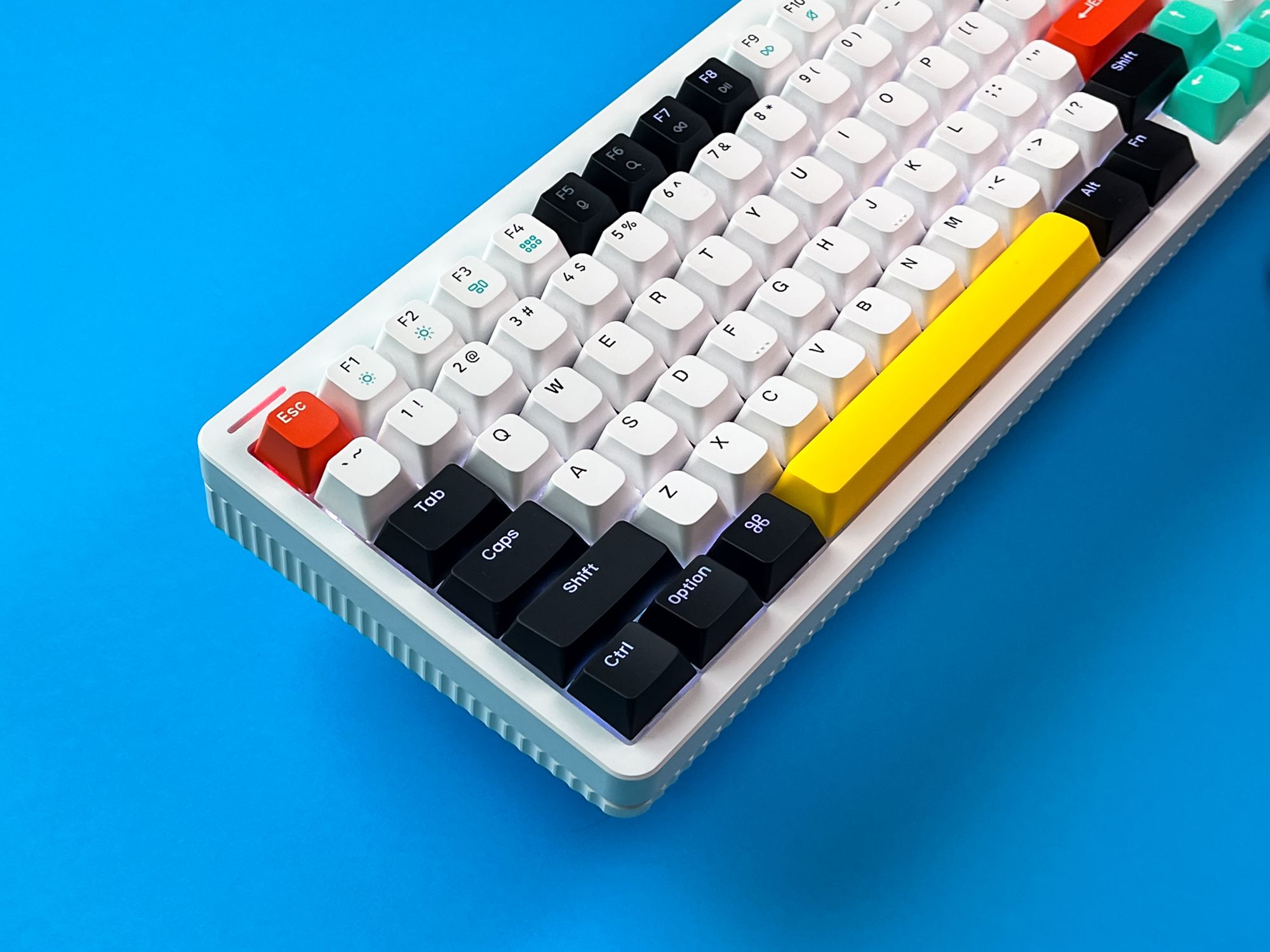 The keyboard is constructed with a combination of materials with frosted glass sandwiched between the aluminum housing for the top and plastic at the bottom. This allows the RGB light to pass through the edge, giving that Halo effect around the keyboard where it gets its name from.
On the sides of the keyboard, you'll find the USB port, connection mode toggle switch, and operating system switch. Additionally, NuPhy has included a magnetic housing for the 2.4 GHz wireless receiver. At the bottom, the keyboard offers two different raising angles, allowing you to adjust it to your preferred typing position.
Typing Experience
The keyboard lives up to the promise of mechanical keyboards known for their customizability. The switches are hot-swappable, and you can choose from two switch lines: Gateron Pro 2 or the new collaboration between Gateron and NuPhy called Baby Kangaroo and Racoons.
I have the Baby Racoon switches on my keyboard, and the keystrokes feel very smooth, with the consistent feel of a linear switch but with a snappier return. Since the keyboard comes with a damper kit by default, the sound is very comforting while you type. The default keycaps have an excellent double-shot PBT construction and rounded corners. They also have a subtle concave shape horizontally, which helps guide your finger to the center of the key while typing. Since they also use Cherry MX stems, you have many options for aftermarket keycaps.
The redesigned space bar to what NuPhy calls Ghost Bar is an interesting keyboard feature that sets it apart from others. It's essentially a specially designed spacebar that uses multiple layers of silicon to reduce sound and provide added stability.
Nuphy also sells shine-through ABS keycaps for an additional $20. They blend well with the keyboard and feel higher quality than the PBT ones, but it's likely that they won't hold up as well to oil in your finger and wear because of the material.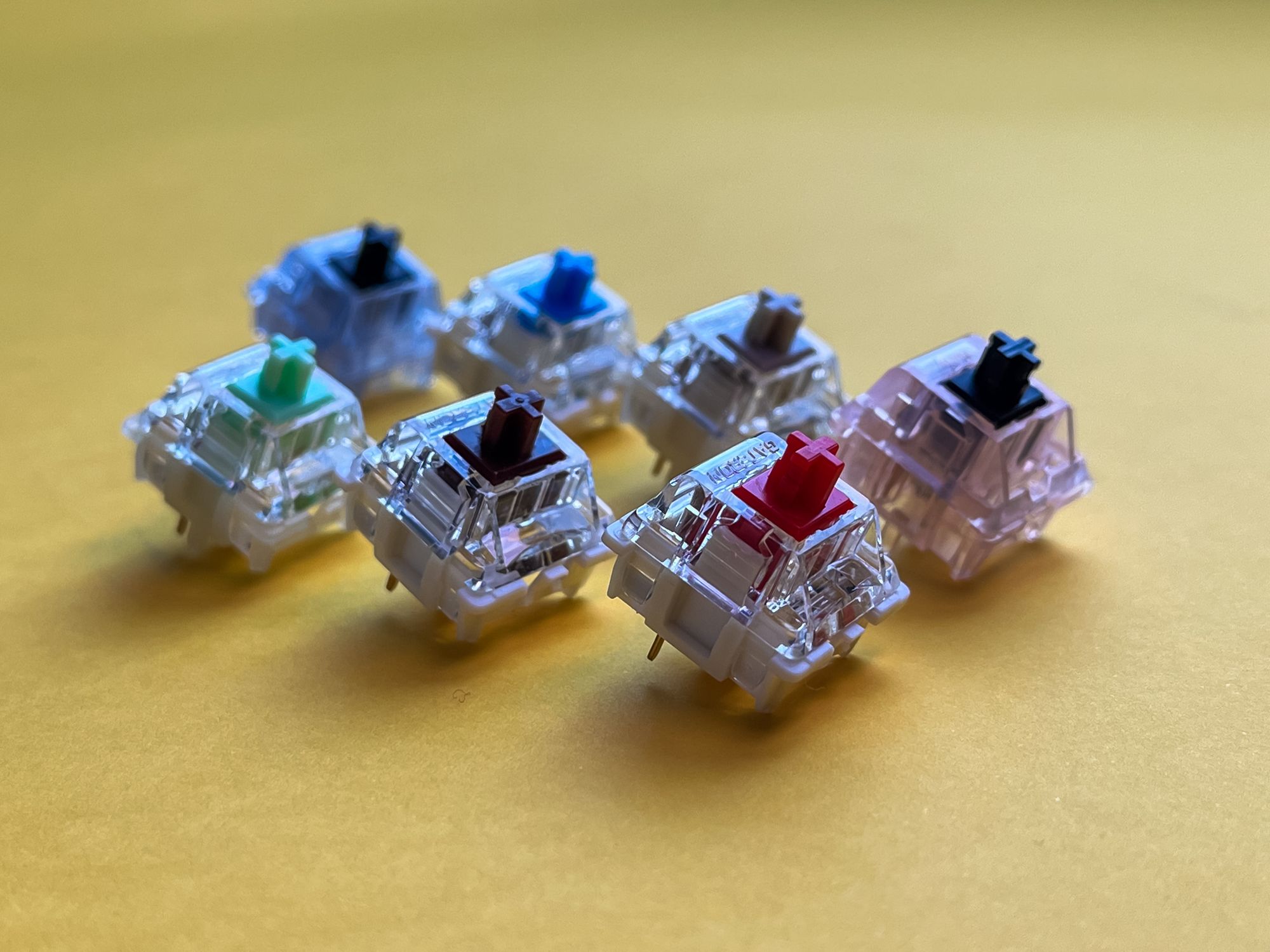 Talking about the size, adjusting to the 96% layout from the 75% layout took some time, as muscle memory kept looking for the keys to the far right. One thing to note is that the keyboard may be too tall for some users, especially those with a low-profile mechanical keyboard. However, the attached wrist rest can be an ideal solution for any ergonomic needs.
The RGB Lighting
NuPhy keyboards are well-known for their excellent lighting options, and the Halo 96 is no exception. The RGB lighting is vibrant and adds a colorful touch to the overall look of the keyboard. The light strip at the top can act as a Caps Lock light, show battery status, and blink when functions change. The north-facing RGBs under the keys also have many different lighting patterns, colors, and intensities to suit your mood and preference.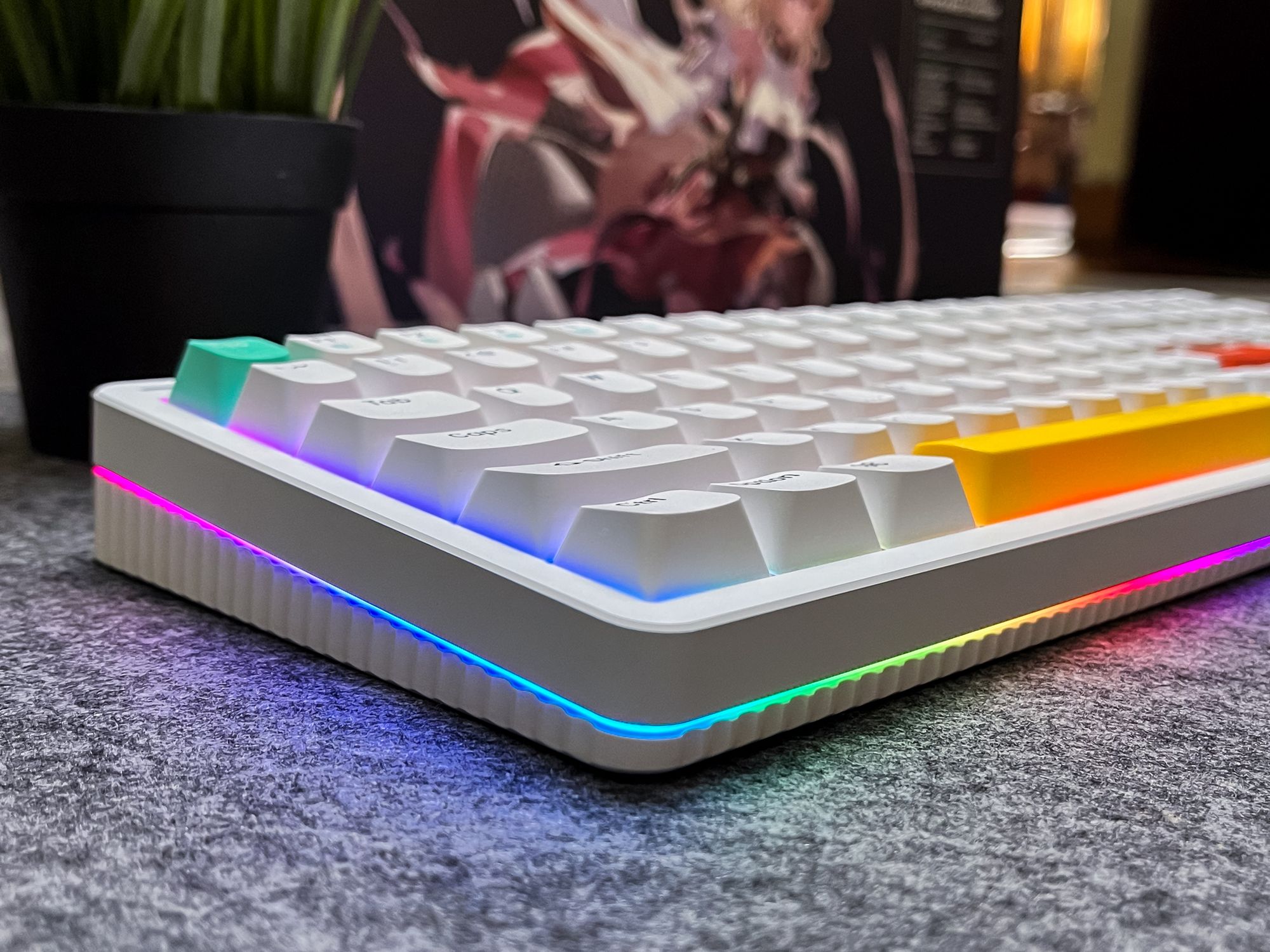 The Halo lighting outside is controllable independently via key combinations or the NuPhy Console Software. Users also have the option of key mapping, creating and saving macros, and controlling color modes. The software is easy to use and provides a lot of options for customization, although it is exclusive to Windows users.
Connectivity and Power
The Halo 96 can connect to three devices over Bluetooth, which can be switched using the function and number keys at the top. It can also be connected directly via the USB-C cable or a 2.4 GHz wireless receiver for a low-lag experience while gaming. I found the Bluetooth connection to be rock solid this time with no noticeable lag, all thanks to Bluetooth 5.0. The USB cable also doubles as a charging cable or for wired operation. However, I strongly believe it's high time for NuPhy to provide a USB-C version in 2023.
The battery life is impressive, lasting over 50 days with an average of 6 hours per day of use with the RGB lights turned off.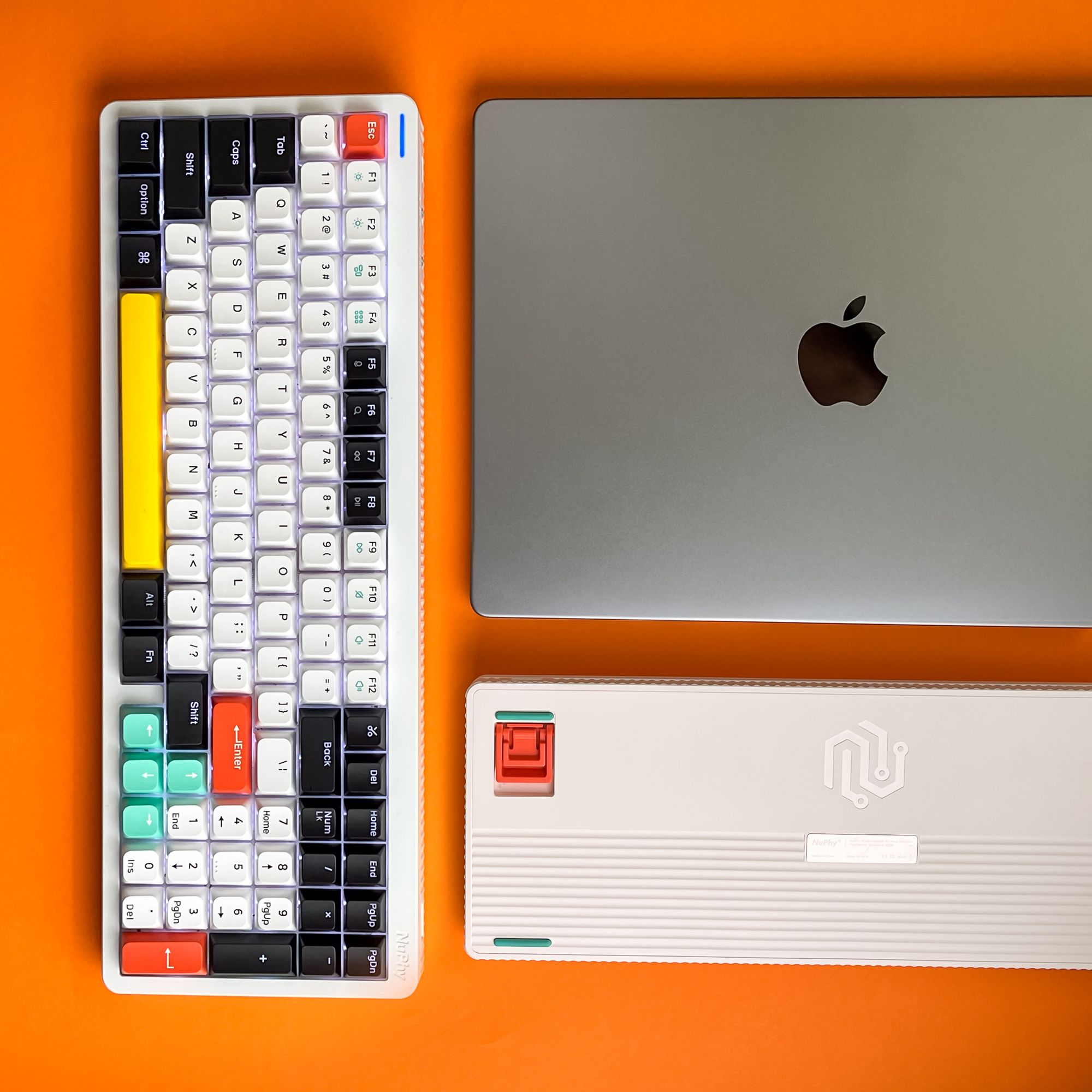 Conclusion
For under $150, the Halo 96 is an excellent keyboard offering in 2023. Its build quality, impressive battery life, and RGB lighting make it a standout choice for those looking for a mid-range high-profile mechanical keyboard. The shipping might be slightly pricier because of its weight, but it's a trade-off you'll have to make to receive a keyboard with robust build quality.
Overall, I have been thoroughly impressed with the keyboard, and I would highly recommend it for keyboard enthusiasts looking for a solid mechanical keyboard that works flawlessly straight out of the box and also leaves room for customization.
*The product was sent over by NuPhy to review and all opinions and insights shared throughout this blog post are genuinely my own and not influenced by other factors. **As an Amazon Associate I may earn commission from qualifying purchases.